Holy Trinity and All Saints Church
Holy Trinity and All Saints Church, WInterton-on-Sea
Rev Clarence Porter's grave, which is in line with the altar

It is one of the four rural parishes Fr John is responsible for in the Flegg coastal group and like much of the rest of Winterton, it is dog friendly – in fact he has his own canine assistant Dixie, a rescue dog. Well-behaved pets are welcome at services.
The son of a shepherd, Fr John, who arrived in the village in February 2019 after two decades in charge at St Edmund in Hunstanton, is an experienced church organist as well as a priest. As a schoolboy in North Norfolk he played for both the Church of England and Methodist churches in his home village of Holkham.
Parish Mass is at 9am on a Sunday and the church is open daily between 9am and 6pm - or until dusk in winter.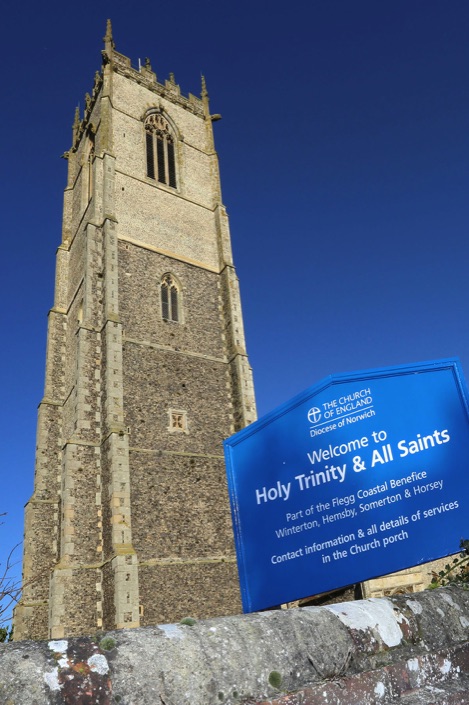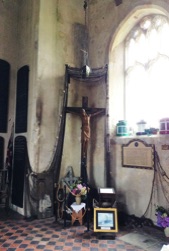 Inside Holy Trinity and All Saints Church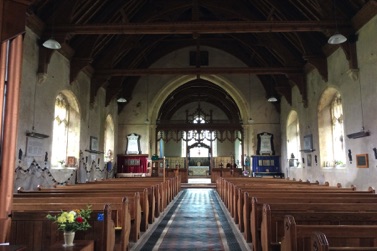 For general inquiries please phone Fr John Bloomfield on 01493 393628 or email jonstefanfield@btinternet.com
An aerial trip around the church
A bird's eye view from the top of the tower - open to the public during spring & summer
THE fishing heritage of Winterton is apparent as soon as you walk through the door of Holy Trinity and All Saints Church.
Nets from one of the last fishing boats that made a living from the beach hang from the walls and at the back of the church is Fisherman's Corner with a crucifix carved from ships' timbers.
The feature was the idea of one of current vicar Rev John Bloomfield's predecessors, Rev Clarence Porter, who was rector between 1925 and 1932.
Rev Porter's life was cut short when he suffered a heart attack after rescuing a choirboy from the sea and among the tributes to local lifeboatmen, who carried out daring rescues, is a memorial to him. He is buried in the churchyard and flowers are still occasionally laid on his grave.
Joseph Hume of nearby Burnley Hall, a 19th Century MP who campaigned against anti-trade union laws and protested against flogging being used as a punishment in the army, is also remembered on the walls of the church along with another Hume whose generous legacy can be seen in the beautifully carved roof and rood screen.
One of the 14th and 15th Century church's big claims to fame is the impressive tower. At over 132 feet high it dominates the landscape and served as a lookout post during times of war. Some of the soldiers who spent cold and lonely nights up there left their marks etched into the lead roof.
It underwent a major restoration in 2014 and now, on Saturdays during the spring and summer, it is open to the public and offers stunning views over the surrounding countryside as well as out to sea. On a clear day those who make the climb can see as far as Happisburgh lighthouse to the north and Caister water tower in the south. (Please see our slideshow).
Times and the local population may have changed over the years, but the church is still an important part of the village.
There is a flower festival that is well supported and people will also turn out for events like the Good Friday Walk of Prayer through the village.
© All content copyright 2021
Service times and church events during November
Friday 5th November
9.00am - Mass at Winterton.
Sunday 7th November - Trinity Sunday
10.00am Benefice Eucharist at Winterton with the Archdeacon's Visitation.
Friday 12th November
9.00am - Mass at Winterton.
Sunday 14th November - Remembrance Sunday
9.00am - Remembrance service around the war memorial and then continued in the church.
Friday 19th October
9.00am - Mass at Winterton.
Sunday 21st November
9.00am - Mass at Winterton.
Friday 26th November
9.00am - Mass at Winterton.
Saturday 27th November
10.00am - 1.00pm ... Winterton Church Christmas Bazaar at the Church Room. Please help them to raise funds for the village church by donating items - cakes, Christmas items, craft items, tombola prizes, raffle prizes. All donations will be greatly appreciated. Please contact Sandra: 01493 393480 or bring along to the Church Room from 2.00pm the day before.
Sunday 28th November
9.00am - Mass at Winterton.
10.00am - After Mass the monthly 100 Club will be drawn at Winterton Church. Tickets are £1 a month or £12 for a year. First prize is £20, second £15 and third £10. Contact Margaret Browning on 393755 for more details.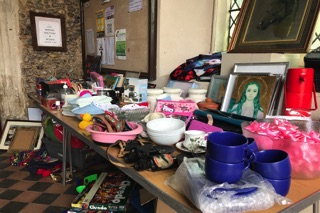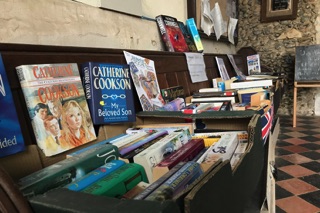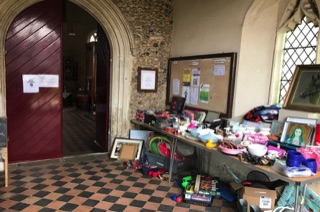 Books and bric-a-brac can be bought from the church porch at anytime
Dear friends,
November always seems to be a sombre month with the dark evenings. And it's the month of the departed. The Church calendar starts us off with All Souls Day on November 2nd, when we pray for the departed. Then Bonfire night on the 5th and Armistice Day on the 11th, usually commemorated on Remembrance Sunday.
Remembering past people and events is nothing if we can't make the connections between those events and the present and shaping the future.
All Souls day, all the departed, though we may particularly remember our departed loved ones. But of course it's more than that, it's also about facing our own mortality, one day we shall be numbered amongst those 'faithful departed'.
November 5th has the burning of an effigy of Guy Fawkes. With the recent murder of Sir David Amess very much in mind, we need to remember those of every age who would upset the democracy we value. The remembering of Guy Fawkes and his attempt to blow up Parliament is nothing if we don't take any notice of those today who would do the same by murdering members of Parliament.
And Remembrance Sunday: We can understand how the situation in Afghanistan almost undermines all the efforts and sacrifices made by our military over the last twenty years. With the USA backing out we have let the Taliban take vulnerable people, especially the women, and cast them back into dark political days. "Am I my brother's keeper?" Cain asked God, after he had murdered his brother. The answer being yes, we aren't just to look after our own interests.
The most well known quoted verse from the Gospel is "God so loved the world, that he gave his only Son…" (John 3.16) God loved the world, not, God just loved our own country. However patriotic we are, as Christians we are to pray for the world, which is God's world. As Saint John would later write, "how can we say we love God whom we have not seen, when we do not love our brothers and sisters who we can see?"
The past might be another country, as it has been said, but it is our own country in a previous age. Our own forebears. I often wonder what my own family forebears were doing when I recall particular events. Which or whose side were they own? From the perspective of history would I agree with them or not?
The character of November is changed from being totally sombre by celebrating the 1st of November. All Saints Day. That commemoration changes everything from a Christian viewpoint. It proclaims that all the awful events of the past, and our natural sadness of grief, is overwhelmed by the glory of God in and through his Saints. They are the heroes of the Christian world who have overcome human selfish interests by living so close to God, that they already enjoy the heavenly vision, which we still strive and long for.
All Saints' day reminds us that all of time is lived out within God's eternity; that all of the trials and sufferings of this present age will one day be over, and there will be a new heaven and earth, when tears, sickness, sadness and death are all gone.
With all our remembering, don't forget to begin with celebrating All Saints day. We are to look beyond all of this world's tragedies, and beyond our own individual mortal lives and contemplate the glory of Heaven when we shall see the true King.
Until then we continue to struggle, but calling on God through prayer, and assisted by his grace, and the prayers of all the saints who worship him in his presence.
Your priest and pastor,
Father John
A message from your parish priest Father John