Holy Trinity and All Saints Church
Holy Trinity and All Saints Church, WInterton-on-Sea
Rev Clarence Porter's grave, which is in line with the altar

It is one of the four rural parishes Fr John is responsible for in the Flegg coastal group and like much of the rest of Winterton, it is dog friendly – in fact he has his own canine assistant Dixie, a rescue dog. Well-behaved pets are welcome at services.
The son of a shepherd, Fr John, who arrived in the village in February 2019 after two decades in charge at St Edmund in Hunstanton, is an experienced church organist as well as a priest. As a schoolboy in North Norfolk he played for both the Church of England and Methodist churches in his home village of Holkham.
Parish Mass is at 9am on a Sunday and the church is open daily between 9am and 6pm - or until dusk in winter.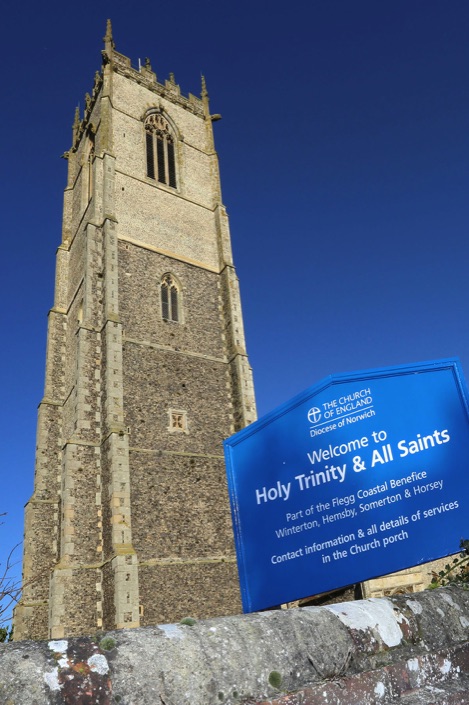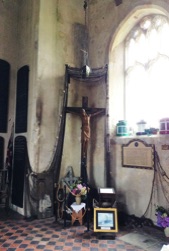 Inside Holy Trinity and All Saints Church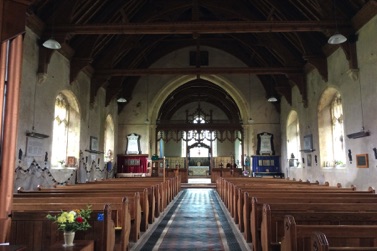 For general inquiries please phone Fr John Bloomfield on 01493 393628 or email jonstefanfield@btinternet.com
An aerial trip around the church
A bird's eye view from the top of the tower - open to the public during spring & summer
THE fishing heritage of Winterton is apparent as soon as you walk through the door of Holy Trinity and All Saints Church.
Nets from one of the last fishing boats that made a living from the beach hang from the walls and at the back of the church is Fisherman's Corner with a crucifix carved from ships' timbers.
The feature was the idea of one of current vicar Rev John Bloomfield's predecessors, Rev Clarence Porter, who was rector between 1925 and 1932.
Rev Porter's life was cut short when he suffered a heart attack after rescuing a choirboy from the sea and among the tributes to local lifeboatmen, who carried out daring rescues, is a memorial to him. He is buried in the churchyard and flowers are still occasionally laid on his grave.
Joseph Hume of nearby Burnley Hall, a 19th Century MP who campaigned against anti-trade union laws and protested against flogging being used as a punishment in the army, is also remembered on the walls of the church along with another Hume whose generous legacy can be seen in the beautifully carved roof and rood screen.
One of the 14th and 15th Century church's big claims to fame is the impressive tower. At over 132 feet high it dominates the landscape and served as a lookout post during times of war. Some of the soldiers who spent cold and lonely nights up there left their marks etched into the lead roof.
It underwent a major restoration in 2014 and now, on Saturdays during the spring and summer, it is open to the public and offers stunning views over the surrounding countryside as well as out to sea. On a clear day those who make the climb can see as far as Happisburgh lighthouse to the north and Caister water tower in the south. (Please see our slideshow).
Times and the local population may have changed over the years, but the church is still an important part of the village.
There is a flower festival that is well supported and people will also turn out for events like the Good Friday Walk of Prayer through the village.
© All content copyright 2021
Service times and church events during October
Every Friday
9.00am - Mass at Winterton.
Every Sunday
9.00am - Mass at Winterton.
Tuesday 12th October
3.00pm - Winterton Social Committee meets at 5 Greencourts. All who would like to help are welcome to come.
Thursday 14th October
6.30pm - 8.30pm - Opening Evening at Hemsby Church. Come along and enjoy music, cheese and wine. Admission is free, but voluntary donations towards the tower would be welcome. The plans for the tower will be on display.
Friday 15th October
2.30pm - Winterton School harvest service at Winterton Church.
Sunday 17th October Twentieth after Trinity
9.00am Mass at Winterton, 10.45am Morning Praise at Somerton and 11am Eucharist at Hemsby.
Wednesday 20th October
7.00pm - Hemsby PCC meets in the Barn Room.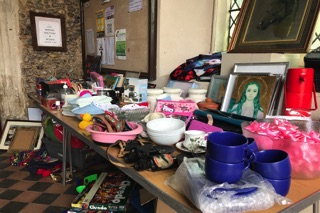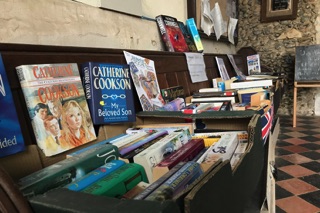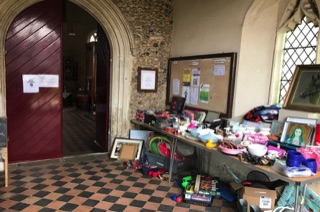 Books and bric-a-brac can be bought from the church porch at anytime
Dear friends,
Have you ever considered that the Calendar year mirrors a life?
Spring time mirrors birth and childhood. Life in nature bursts forth with shoots coming out of a hard ground, as we are born from the womb of our mothers. Like the seed or bulb in the ground, we are conceived and spend the first nine months of our life in the darkness of the womb. As the shoots and first leaves of plants are a bright green, so we are fresh and excited as we grow through childhood.
Summer, the bright days when we can bask in the sun although we may experience showers and storms. In life we come to adulthood, building on the experiences of childhood, we hope for good days of work and play, forming relationships, one of which we hope may lead to a life long commitment. But we know it will not be all sunshine. There will be difficulties, some worries, and perhaps life will be devastated like the storms that may uproot trees. Storms of life like the storms of nature may come suddenly upon us without warning. But we hope that the summer of our lives will be stable as we mature through life's ups and downs.
Then the autumn time of life. In nature the leaves which began so fresh and green gradually change their colours and produce the wonderful colours of gold and brown. We too may excel in the colours of life, no longer young and fresh, but still full of bright colours; if we have matured and are happy and content within our own lives then we can produce wonderful golden colours which will enhance the younger lives of family or friends around us. Autumn leads us to the last season; and who knows or notices when the leaves retaining their colours start to slowly fall off the tree or plant?
The winter may well be cold, but we keep safe and warm within our homes, closing the curtains to keep the warmth within and the draughts out. In our last season of life, we hope and pray that we will continue to enjoy life, true we shall take it at a different pace, but with many memories to look back upon. With snow, ice, frozen ground or hard frosts come difficulties causing some people to slip and fall. We become aware of our ageing process, tiredness and a dawning that perhaps life is drawing to its close. A realisation that perhaps we ought to consider preparations for the time when we may see family or friends leave this life before us. To grasp the pain of partings or remain in denial that it won't be yet for us? But like a sudden fall, we ought to acknowledge that the parting from all we know and love might come sooner than we expect.
Is winter the end of the seasons? Of course not, for the rhythm begins all over again. Where there seem no signs of life, life does continue, though out of sight in the depths of the earth. And when we think that life for us will come to an end, there is the hope that life will continue. The earthly cycle of life will have come to an end, but God has something prepared for us, hidden from our sight. A new life will be given us, something new and wonderful.
At each stage in life we should be thankful for all the blessings of that particular season, and know that the next season with all its possibilities will be coming our way. Each season brings with it the expected, and the unexpected. There is a general pattern to be lived and followed, but each year is different and unique. No year is ever repeated. Given for us by God to experience and learn something more of him through each year. In the Bible we have that lovely passage we sometimes hear at funerals:
For everything there is a season, and a time for every matter under heaven; a time to be born, and a time to die; to love, and a time to hate.
Do we acknowledge those different times in life? Are we thankful to God for what we have, or do we spend or time regretting what hasn't come our way?
Your priest and pastor
Father John
A message from your parish priest Father John