Holy Trinity and All Saints Church
Holy Trinity and All Saints Church, WInterton-on-Sea
Rev Clarence Porter's grave, which is in line with the altar

It is one of the four rural parishes Fr John is responsible for in the Flegg coastal group and like much of the rest of Winterton, it is dog friendly – in fact he has his own canine assistant Dixie, a rescue dog. Well-behaved pets are welcome at services.
The son of a shepherd, Fr John, who arrived in the village in February 2019 after two decades in charge at St Edmund in Hunstanton, is an experienced church organist as well as a priest. As a schoolboy in North Norfolk he played for both the Church of England and Methodist churches in his home village of Holkham.
Parish Mass is at 9am on a Sunday and the church is open daily between 9am and 6pm - or until dusk in winter.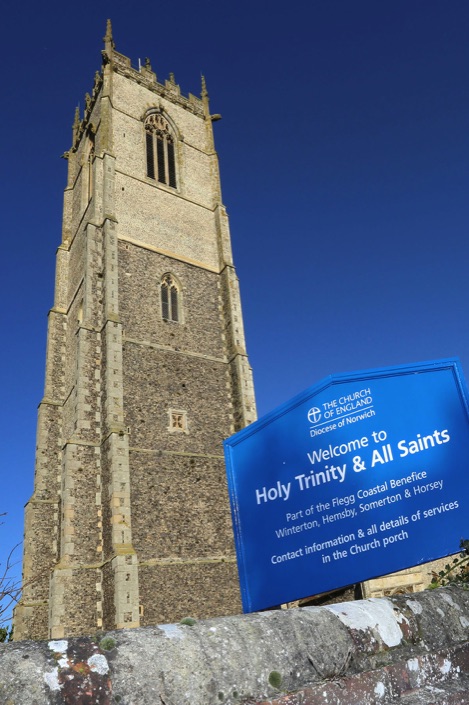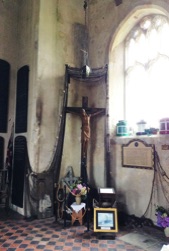 Inside Holy Trinity and All Saints Church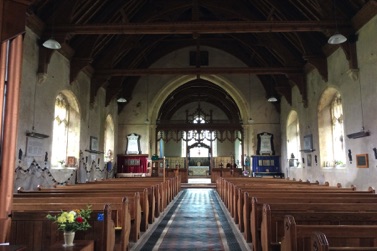 For enquiries phone Sandra Laws on: 01493 393480 or email: salaws1951@aol.com
An aerial trip around the church
A bird's eye view from the top of the tower - open to the public during spring & summer
THE fishing heritage of Winterton is apparent as soon as you walk through the door of Holy Trinity and All Saints Church.
Nets from one of the last fishing boats that made a living from the beach hang from the walls and at the back of the church is Fisherman's Corner with a crucifix carved from ships' timbers.
The feature was the idea of one of current vicar Rev John Bloomfield's predecessors, Rev Clarence Porter, who was rector between 1925 and 1932.
Rev Porter's life was cut short when he suffered a heart attack after rescuing a choirboy from the sea and among the tributes to local lifeboatmen, who carried out daring rescues, is a memorial to him. He is buried in the churchyard and flowers are still occasionally laid on his grave.
Joseph Hume of nearby Burnley Hall, a 19th Century MP who campaigned against anti-trade union laws and protested against flogging being used as a punishment in the army, is also remembered on the walls of the church along with another Hume whose generous legacy can be seen in the beautifully carved roof and rood screen.
One of the 14th and 15th Century church's big claims to fame is the impressive tower. At over 132 feet high it dominates the landscape and served as a lookout post during times of war. Some of the soldiers who spent cold and lonely nights up there left their marks etched into the lead roof.
It underwent a major restoration in 2014 and now, on Saturdays during the spring and summer, it is open to the public and offers stunning views over the surrounding countryside as well as out to sea. On a clear day those who make the climb can see as far as Happisburgh lighthouse to the north and Caister water tower in the south. (Please see our slideshow).
Times and the local population may have changed over the years, but the church is still an important part of the village.
There is a flower festival that is well supported and people will also turn out for events like the Good Friday Walk of Prayer through the village.
© All content copyright 2022
Service times and church events this month
Sunday May 1
11am ... Father John's last celebration of Mass at Hemsby Church.
Every Friday
9am ... Morning prayer at Holy Trinity and All Saints, Winterton.
Every Sunday
9am ... Mass at Holy Trinity and All Saints, Winterton.
10am - Every last Sunday on the month the 100 Club will be drawn. Tickets are £1 a month or £12 for a year. First prize is £20, second £15 and third £10. Contact Margaret Browning on 393755 for more details.
Saturday June 3
2pm - 4pm ... Winterton church tower opens to the public.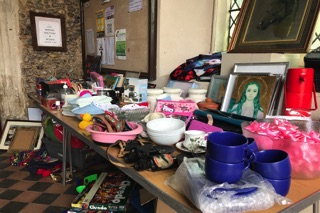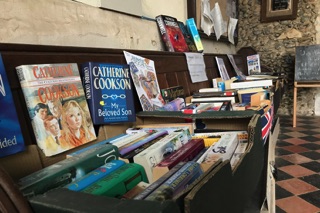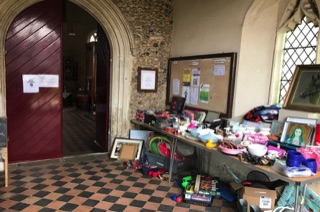 Books and bric-a-brac can be bought from the church porch at anytime
Dear friends,
Writing to meet deadlines for publication inevitably means that anything could happen between me sitting at my desk and the magazine arriving at your door. Having faced two years of disruption because of the Covid pandemic we are now witnessing terrible events in Ukraine.
The situation seems a long way from here, but television dramatically brings world events into our living rooms.
It is so easy in a local parish magazine to forget the larger picture.
In the 1980's I was worshipping in Codicote in Hertfordshire in the days before I was ordained. During the Falklands war our church was in an interregnum, so we had a whole variety of visiting priests celebrating our Sunday worship. One of our churchwardens commented that not one of our visiting clergy had made any reference to that particular conflict in their sermons. (Perhaps they thought all the others were mentioning it so they wouldn't bother) So we got no Christian thoughts on what was happening in events in which our country was a part.
As Christians we belong to a world wide family which includes those whose countries we might be engaged with through hostilities. Several years after the Falkland wars I was living in Sussex, and by then ordained, and in my first year as a vicar in the parish of Littlehampton. I was at choir practice and preparing for Remembrance Sunday. Two of the choir got in a heated discussion with each other. One pointed out that there were German Christians who were just as caught up in WW2 as we were. And both sides believing God was with them. This was too much for the other one who simply said, "Yes, but God was on our side as we were right." In the film Cromwell something similar was said between Roundheads and Cavaliers. Richard Harris as Cromwell said "God must sometimes wonder who is on his side!" Something we could all do to reflect upon.
And perhaps that is something that might be reflected upon as we enter into Holy Week. (Which begins on Palm Sunday, April 10th). The Jewish religious leaders were convinced they were right in opposing Jesus, which led to his crucifixion. In the Gospels those particular Jews were all grouped together with the whole nation as "The Jews" and who were blamed for the death of Jesus. The dreadful consequence of writing in that style led to the anti-Semitism which sadly is still in evidence all these centuries later. This should be a warning that we must not think those perpetrating the war on Ukraine are "The Russians" as if all Russians are the enemies of all Ukrainians. We must not allow the real architects of the current situation to colour what we think of ordinary Russian citizens going about their daily lives.
As we pray for the Ukrainians, pray also for the Russian people who have the courage to speak out against their political leaders. They might not be members of the C of E, but those who are members of the Orthodox churches are our brothers and sisters in God's world wide family.
Have a holy and joyous Eastertide,
Your parish priest and pastor,
Father John.
A message from your parish priest Father John, originally written for the Winterton Newsletter
Volunteers are needed to help paint the church door, gates and noticeboard. The fences also need a coat of wood treatment (what we used to call Creosote). The church will provide the materials, they just need the labour.
Help is also needed at the top of the church tower when it opens to the public in June. Volunteers need to be over 18 and able to talk to visitors about the village and the surrounding areas below. A guidebook will be provided. If you can help with either, please contact Church Warden Philip Laker-Jones on 01493 393215.