News from the Winterton-on-Sea Parish Council & the village, September 2021
© All content copyright 2021
FIRE crews were called to deal with a major fire at the Hermanus holiday complex.
Norfolk Fire Service said the alarm was raised just before 1pm on August 3. Eight engines were sent, including an aerial appliance.
Smoke could be seen billowing from the roof of the main building, which was evacuated.
Crews from Wroxham, Sprowston, Martham, Great Yarmouth, Gorleston, Stalham, Acle and the control unit and a drone from Wymondham tackled the blaze, which was contained by just after 3pm.
East Anglian Ambulance Service told wintertononsea.co.uk: "We were called to the Hermanus Holiday Centre at around 1.10pm. Crews treated three patients at the scene before transporting them to James Paget Hospital for further assessment and care.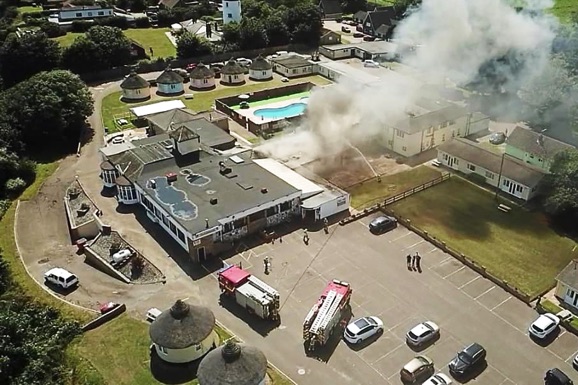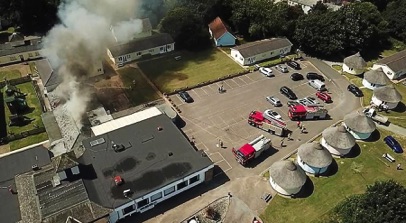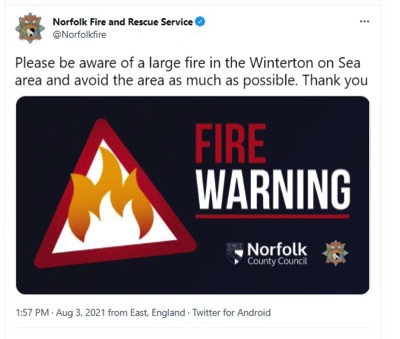 The fire service tweeted a warning to people to avoid the area
Hermanus Manager James Denton posted on social media

He explained the vehicle was parked in the access to the garage of the property off The Craft, but in the front garden there were several more derelict cars and a caravan.
"She says people knock on her door and want to buy the camper van that's parked on this piece of ground. One man has knocked three times."
He said the owner lived in Norwich and attempts to get him to deal with the problem had been met with belligerence.
He asked for council help to find a solution and added: "We can't have people becoming belligerent towards our 92-year-old residents."
Chairman Mark Bobby said the council would write to the owner of the property and express it's concerns.
LEAK PLUGGED: A water leak that flowed for nearly two months has finally been stopped.
Essex and Suffolk Water insisted the leak affecting Kings Street and The Loke was from a private main, which was denied by owners of properties nearby.
But the company eventually agreed to do the repair after pressure was applied by councillors.
The issue was taken up by borough and county representative James Bensly who said it was affecting the quality of life for people in the village and becoming a nightmare.
After a lengthy exchange of emails and an offer to use his divisional budget to pay for the repair he was told on August 10 that an agreement had been reached for the work to be done. And the following day he was notified the job was planned for August 12.
DERELICT CAMPER: Abandoned cars at a property are creating a rat problem and leading to an elderly neighbour being plagued by unsolicited calls from strangers offering to buy the vehicles.
Norman Parcell told fellow parish councillors: "There's a camper van that's completely overgrown, rats are coming into her garden from there."
PLANTER THEFT: Thieves stole a huge planter full of flowers from a garden wall during the night.
The bulky terracotta pot weighed down with drainage bricks was on top of a pillar at the door of Norman Parcell's drive and had been part of his effort to support the In Bloom team's work bringing colour to the village.
At Wednesday's parish council meeting the Londoner said he had been used to the problem of theft while living in the city. But it was the first time he had been targeted since moving to Winterton six years ago.
"Yesterday morning I was thoroughly disappointed to find that my terracotta pot had been stolen. This was some feat of strength to remove it off the pillar."
"Nobody could have picked it up and walked away with it. They must have put it in a vehicle."
He said he had reported it to the police but wanted residents to be on their guard and take security precautions.
"There are people that are coming into the village and they are prepared to nick anything they can get their hands on."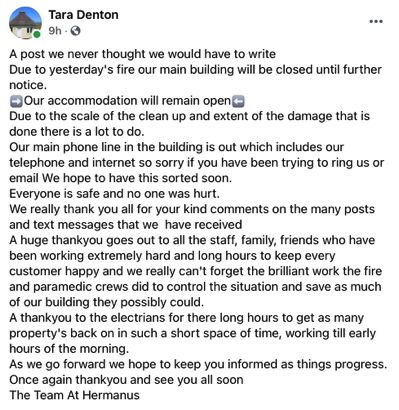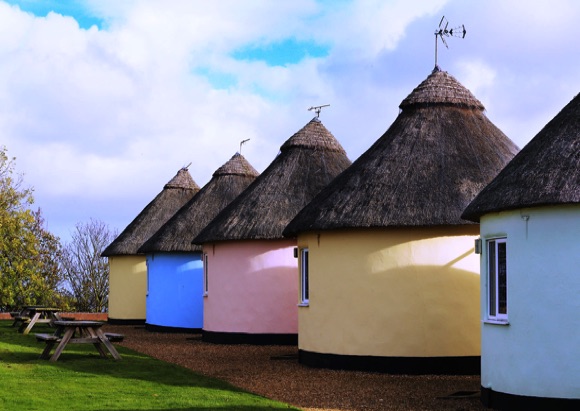 The Hermanus Team's announcement on social media
Accommodation at the Hermanus remains open
A digest from August's parish council meeting
CALLING all budding artists! We want to see what you're doing this summer – it could win you a prize!
Paint or draw a picture of what you get up to during the school holidays and send it in to the newsletter to see your artwork on our website and be in with a chance to win some art supplies.
It doesn't matter whether you're having a staycation at home, going to the beach, flying abroad or just going on days out with the family. Maybe you just want to create a picture of the village. Why not enter our first ever art competition?
There are three age categories – up to six, seven to 11 and 12 to 16. Pictures should be A4 size horizontal and they can be scanned or photographed and emailed to news@wintertononsea.co.uk or left in the newsletter drop box in Poppy's.
Entries must be clearly labelled with the artist's full name and age and a contact number or email address for their parents or guardian.
The deadline is August 31.  Winners will receive a prize of age appropriate art materials and all the entries will be displayed in a gallery on the wintertononsea.co.uk website.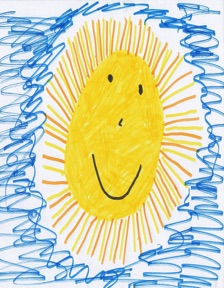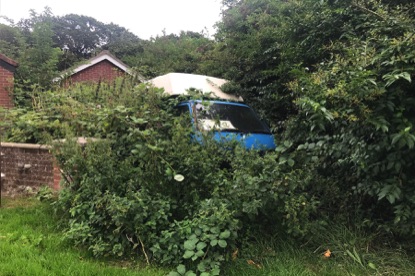 FOOTPATH WAITING GAME: Campaigners hoping to have a popular footpath linking Winterton with Hemsby are waiting with fingers crossed to hear whether they have succeeded.
The route, used for decades, was closed around seven years ago, meaning walkers had to choose between the valley or along the main road to get between the villages.
Reporting back to the parish council on Wednesday night Rebecca Durant said the application process to the Planning Inspectorate was complete, but there was no timeframe for a decision. She had looked at similar cases and was hopeful that it wouldn't be any longer than three months.
The inspector could decide there should be a hearing, she added.
GEORGE BECK PARKING: Ambulance crews have had to wheel patients along George Beck Road because parked cars have stopped them getting through, the parish council was told.
In an appeal for a cul de sac sign to be installed one resident said: "We get ambulances that can't get up there because of the way people park.
"I woke up one morning and there was this great big motorhome parked outside my front door."
He said he had tried to get Norfolk County Council to do something about it. "It has been an ongoing issue but it has got worse in the last year," he added.
Parish clerk Stacey Kent said the issue could be included as part of the evidence being gathered by the traffic management group.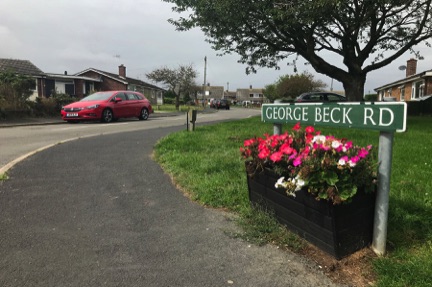 Earlier in the meeting deputy chairman Nigel Coe said the group was meeting the highways authority in September to walk the village and show how the cones were being used to manage parking issues.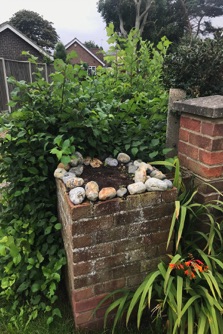 GARAGE SALE: Almost 40 people have registered to be part of the village garage sale on Sunday.
John Smithson told the parish council 150 maps had been printed and would be on sale at £1 each on the day.
He said the sale was between 10am and 3pm, but he was told there were signs outside the village suggesting it started at 9am.
On the Winterton-on-Sea Facebook group one seller said he expected to set up at about 9am for early bird bargain hunters.
PARKING PAYMENT: Drivers who don't have cash to pay for using the Beach Road car park are being offered options to avoid them adding to the parking problem in the village, says the owner.
The statement came after it was suggested at Wednesday's parish council meeting that visitors were turning round because they couldn't pay by card and driving back to leave their cars in residential streets instead.
Wintertononsea.co.uk contacted the owner who explained: "We cannot take card payment as the WiFi connection is too slow and we do everything to reduce the queue as quickly as possible so as not to impact on the village."
"On a very busy day we may get half a dozen at the most that have no cash. In that case, we offer three solutions - park up and walk to the village for cash from the post office or village shop, then buy ticket, go back to the village in your car and we will hold the space for you, that you would have parked in. or pull into our waiting space and unload car of family and cargo, then go and get cash from a choice of two shops under one minute away.
"I can honestly say 99.9 per cent of visitors do one of the three on the rare occasion they have no cash on them at all - in fact someone bought us a box of chocolates for being so helpful."
During the meeting Rebecca Durant asked how much discussion there was between the council and the landowner and whether they knew how much of a parking problem there was in the village and how drivers paid might be adding to it.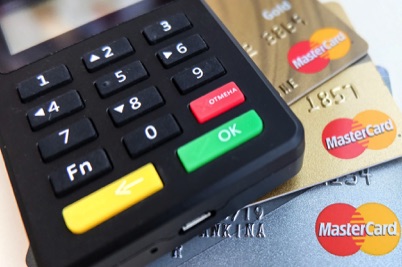 John Smithson told colleagues it was an issue because the car park only took cash and some people were turning round.
Chairman Mark Bobby said the council's relationship with the car park owner was good and deputy Nigel Coe said if people could not get to the beach they would park in the village. But since cones had been introduced traffic had been flowing more freely around the village.
A NEWS RELEASE FROM NORFOLK COUNTY COUNCIL
"I'm really not OK" relaunched to mark World Suicide Prevention Day Friday 10 September 2021
NORFOLK County Council is continuing to work with partners in the NHS, local mental health trust and national and local charities to ensure people are able to get the support they need when in mental distress, as early on as possible. The relaunched campaign on World Suicide Prevention Day, Friday 10 September encourages people to reach out to family, friends and professional support services, to reduce isolation and help each out when coping with life's challenges.
Cllr Bill Borrett, Cabinet Member for Public Health and Prevention, said: "It is vitally important that people know they can get the support they need from family, friends or professionals when they are struggling. We can all play a part in looking out for each other, and there are a variety of excellent professional support services available to access. Every life lost to suicide is a preventable tragedy, and not inevitable. We want to do what we can to remind people that there are options available, including someone there to listen when they are in crisis."
Norfolk County Council is promoting ways for people to improve their mental wellbeing. Using the Five Ways to Wellbeing or making an Every Mind Matters 'mind plan' can help people take constructive steps towards better mental wellbeing. For more tips visit the Norfolk County Council website: www.norfolk.gov.uk/wellbeing
The council is also promoting the nationally recognised Stay Alive app, which is packed full of resources, useful information, and tools to both help people struggling with suicidal thoughts, and people concerned about someone else. To find a list of organisations that can help, go to this page on the Norfolk county council website: www.norfolk.gov.uk/notokay.
For children and young people, JustOneNorfolk offers a variety of resources and ways to connect with professionals, helping young people talk through their feelings with someone they can trust. Young people can also text Youngs Minds at any time to reach out to help that is available 24/7.
BIRTHDAY CELEBRATIONS CANCELLED DUE TO COVID RISE
RISING Covid cases in schools and colleges have put paid to plans by the marine cadets for a big celebration to mark the unit's 20th birthday.
In a statement to us leaders said: "We have made the hard decision to not have a big event this year for the safety of all families and guests. So we are having a family and friends cadet evening at Caister academy on the 4th October."
See our blog on the anniversary, which was also featured in the parish council newsletter. https://www.wintertononsea.co.uk/blog/Entries/2021/9/marine-cadets-to-mark-20th-birthday.html