A large car park in an excellent location, right next to the beach, with cafe and public toilets.
Very rarely full and very well organised, having a minimum of two attendants on duty at busy times to expedite cars finding spaces and getting parked.
Open 7 days a week, all year round including Christmas Day
When the Dunes cafe is closed the car park is run by Winterton Coastwatch and parking is by donation in the buckets at the entrance gates. Coastwatch keep us save on the beach so please give generously.
The car park will be closed when unmanned if weather conditions are extreme.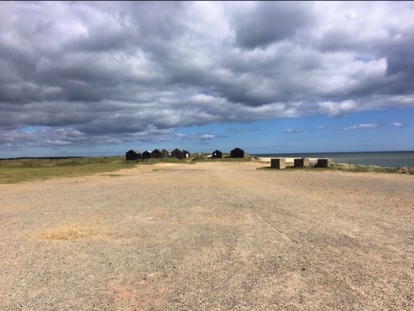 © All content copyright 2022
Please do not bring flying rings onto the beach. Young seals find them and play with them, putting their heads through the holes. Often they are unable to take them off, so as they grow, the rings cut into their necks. Some seals have been spotted on the beach and rescued. If you see a seal in difficulty please phone 07706 314514 or the RSPCA on 0300 1234 999. See a related story about "David Attenborough" on our village blog.
Opening Times & Parking Prices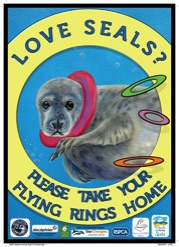 Winter Opening Times ... 8.30am - 4.00pm
Spring Opening Times ... 8.30am - 6.00pm
Summer Opening Times ... Sunday - Wednesday 8.30am - 7.00pm ... Thursday - Saturday 8.30 am - 8.00pm
Late Summer Opening Times ... 8.30am - 7.00pm
Autumn Opening Times ... 8.30am - 6.00pm
Parking prices
£1.50 an hour ... £7.00 all day
Friends of Horsey Seals is a registered charity that protects grey seals at Horsey and Winterton during the pupping season, which usually starts in early November and ends late January. Why not help support by becoming a Friend of Horsey Seals, donating or giving your time as a volunteer? For more info visit their website.
In memory of Coastwatch volunteer Alan McMurchie, who watched over Winterton beach users for many years.
Horsey Seals and Winterton Coastwatch - a short documentary by Adrian Buck
Did you know that the dune system at Winterton beach car park can be hired for locational filming and advertising photoshoots? Please email Jan for more details.
A clip from a short film made on the dunes for the Fisherman's Return in Winterton, advertising their Morris Minor hire.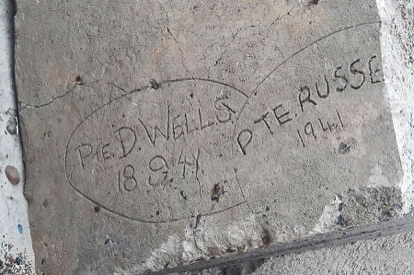 Still defending Winterton seven decades on.
Who would have thought that when Privates Wells and Russell gouged their names into the surface of a huge concrete anti-tank block on Winterton Dunes their handiwork would be considered important by academics and still prompting discussion nearly 77 years later.
Maybe they wondered what people would think in the years to come when the war was over and memories started to fade. But even so, it is doubtful they gave it much reflection when they succumbed to temptation and set their names in the still wet cement on September 18, 1941, (full story on village blog).
When coastal erosion really started to affect the beach in front of the car park and cafe in the early 2000s - resulting in the loss of the original Coastguard station - permission was given by Great Yarmouth Borough Council to gather the blocks and arrange them as a defence against the ravages of the North Sea. No one was sure how successful they would be. But they did the job effectively as the only form of protection until early 2018 when there was another increase in erosion.
As a business the car park has continued to try to protect and replenish the dune until the beach eventually starts to rebuild
as it has in the past. And although it has the backing of the council and Natural England and support from neighbouring beach owners, it receives no public funding.
To that end - and for their own safety - visitors are asked to respect signs and not to walk on the blocks or the fragile area behind them.
Find us on Facebook and Twitter