Singing Postman
NORFOLK can boast several rock and pop legends among its residents and fans.
Singer-songwriter James Blunt comes from Cley, Rick Wakeman lives near Diss and Queen drummer Roger
Taylor was born in Kings Lynn.
But 50 years ago the melodious sounds of our dialect were topping the charts, delivered by the Singing
Postman.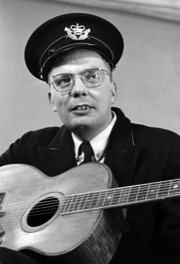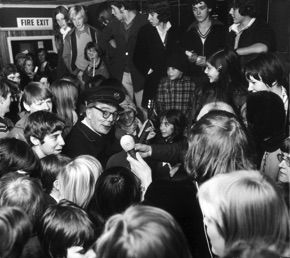 DJ Ralph Tuck who went on to set up his own recording studio and produced Hev Yew Got A Loight. The song was a hit, not just in his home county where the audience recognised and understood Allan's dry Norfolk wit and gentle satire.
The unlikely celebrity appeared on Top of the Pops and the Des O-Connor show and did a summer season at Great Yarmouth in 1965.
"Hev Yew Got A Loight, Boy?" even became a national catchphrase.
Fame and the record industry executives beckoned. But Allan suffered terribly with stage fright and began taking a little Dutch courage before appearances. Gradually the alcohol got the better of him and arthritis robbed him of the ability to play the guitar.
Before long the music scene had moved on and he slid back into obscurity. His alcohol problem remained however.
Picture courtesy of EDP/Archant
Picture courtesy of EDP/Archant
At the height of his success in the 1960s Allan Smethurst outsold the Beatles and the Rolling Stones - at least in Norfolk.
His best remembered title, Hev Yew Got A Loight, Boy? made it to number seven and in 1966 won him an Ivor Novello Award for the best novelty song.
But although he found fame singing in his broad Norfolk accent, he was actually born in Lancashire and he was 21 before he picked up a guitar and taught himself to play.
He grew up in Sheringham and memories of life there, as well as the people he knew, would later provide
him with inspiration for ditties like Dew Yer Father Keep a Dickie? Moind Yer Hid Boy, Following the Boinder and Oi Can't Git a Noice Loaf a Bread.
Holidays were spent at his grandmother's in Stiffkey and his fondest recollections were of harvest time and of horses and tractors working the fields.
When his mother remarried and moved north to Cleethorpes, Allan followed, unhappy at leaving the area he loved. As a young man he took a job as a postman and it was on his rounds that the songs took shape in his head.
In an article for the East Anglian Magazine years later, he said: "My 12 years as a postman were happy and uneventful enough and my guitar was only for strumming in the privacy of my bedroom.  No one could have persuaded me to sing for my supper in any club or pub. Besides, I had a tin opener at home." 
He was discovered after an old schoolmate persuaded him to send a demo tape to local

Two decades after his brief encounter with stardom he moved into a Salvation Army hostel in Grimsby, where he lived quietly until 1994 when Hev Yew Got a Loight, Boy? was adapted and used in an Ovaltine Light commercial, earning him more than £2,000 in royalties.
A creative director searching tape vaults for music to play over the TV advert had rediscovered the song and decided it was perfect. An executive for the manufacturers described it as "distinctive, catchy and memorable - ideal for promoting Ovaltine Light."
© Picture by Peter Robins
When it aired we tracked Allan down to the hostel. The manager told us we were his first visitors in seven years. 
"People kept telling me Hev Yew Got A Loight Boy? had been revived for an advert on the telly, but I didn't believe them. Then one night I saw it for myself. It was quite a surprise." said the former star who turned down a chance to appear in a show with Roy Hudd because he didn't want to venture as far as Skegness.
"Nobody ever mentions any of the other songs I wrote. None of the others seemed to get played. It was always Hev Yew Got a Loight Boy?
"It was a catchphrase long before I used it, but that's all I'm remembered for."
Asked what he would be spending the royalties on he replied: "My needs are simple and I'm well looked after here. I'm quite happy and I have my pension."
Allan died in December 2000 of a heart attack. He was 73.
He recorded more than 80 songs and Tony Palmer of Angilan Music Caister, which has the rights, has re-released them on CD.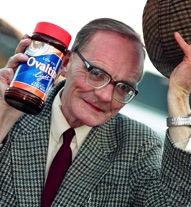 © Picture by Peter Robins
© All content copyright 2022