CAUGHT SHORT: Visitors have been relieving themselves in the dunes and even in people's gardens because the public loos at the beach are closed for a revamp.
The block was closed for a complete overhaul at the start of the pandemic lockdown, but when the Government announced restrictions on daily exercise were being eased, day trippers began arriving in force.
But Great Yarmouth Borough Council was caught short when the lockdown meant it could not get supplies to finish the work.
Toilets and sinks inside the block have been ripped out, but replacements have not yet been
installed.
Parish clerk Stacey Kent told Wednesday's parish council meeting she had been advised
the work was 45 per cent complete and the work was expected to take four to five weeks.
Borough councillor James Bensly said: "They will be open within the next few weeks. It is
just a matter of getting the resources."
Work on the loos at Hemsby, where there had been a similar problem, was 95 per cent
complete and once that project was done the team would concentrate on Winterton.
"It is a public health issue because people are leaving a mess everywhere," said Mark Bobby.
"People are complaining about people going to the loo in their gardens and behind cars. It is
disgusting," said Nigel Coe.
If people were paying for all day at the car park and being sold tea and coffee it was obvious
they were going to need somewhere to relieve themselves. A conversation was needed with
the car park owner about whether portable toilets could be provided.
"If we have to wait another month and if we continue to get this glorious weather…," he said. "…it'll be knee high," put in Cllr Bensly, who said he would ask the borough council to see if temporary toilets could be installed.
NEIGHBOURHOOD PLAN: Emma Noble advised that the Neighbourhood Plan consultation was being extended until 9th July, 2020, because of the lockdown. Hard copies of the plan and the consultation are available from the post office. The online version of the plan can be viewed here and the online questionnaire here.
PARKING WOES: Winterton is not Brigadoon and needs a new parking policy to cope with visitors.
Meeting chairman Mark Bobby made the comment after the parish council heard people arriving to visit the beach during lockdown were using North Market Road and other streets to avoid paying at the car park.
In one incident last week a fire engine struggled to get through to tackle a fire on the dunes.
A year-round parking restriction was now in force along both sides of Beach Road and
North Market Road, with its access to the dunes, was attracting more cars, said Mr. Bobby.
Now the parish council is to investigate whether measures like parking restrictions and
residents' permits should be brought in for different areas of the village.
Norfolk County Councillor Ron Hanton warned the process of bringing in new regulations
cost money and required consultation.
"It is not impossible, but it is a long journey," he said.
Emma Noble agreed something needed to be done about North Market Road. "Let's start
the process. It is clearly only going to get worse."
Marie Hartley pointed to similar issues with Winmer Avenue. "The bus got stuck for 20
minutes with two local nurses on board trying to get to their shift. It couldn't get round the
crescent because of parked cars."
One member of the public said installing double yellow lines in North Market Road would discriminate against both holiday let owners and residents. Meanwhile some living there put their own traffic cones in the road. 
John Smithson said he had looked into the process of getting permit parking elsewhere and consultation was the first stop.
Cllr Bobby said maybe the time was right to start the process with the understanding that it was going to take time and money. But the council should still encourage people to use the beach car park as much as possible.
He said: "It is not Brigadoon. We are going to get visitors and they are going to have to park somewhere."
ARTY GARDENS: Winterton-on-Sea Parish Council would like to thank everyone for entering the Garden Installation competition arranged by them.
The winners were: First prize - Winterton Primary School and Nursery, second prize - Caroline and Austin Fernandez and thrid prize - Elizabeth and Geoff White. They have each received a handcrafted rosette kindly made by
a parishioner.
SUSPICIOUS MINDS: People coming into the village to help vulnerable and elderly folk during
the lockdown have encountered hostility from residents, parish councillors have been told.
One woman said she had encountered an unfriendly attitude from some people.
"Not everybody is coming to the village because they want to go to the beach. Some of us are
coming to make sure an elderly person is OK," she said.
She was looking after a housebound  woman whose path to her home was regularly blocked
by neighbours' cars. And although social services and the borough council were aware she was
visiting, she was always concerned at what the reaction of the neighbours was going to be.
"It's not just an issue of visitors coming in. It is the attitude of residents. To me that is quite
upsetting."
Her comments were made against a background of tension in the village that flared up when the Covid-19 pandemic took hold and the Government announced restrictions stopping people from visiting holiday and second homes.
Chairman for Wednesday's meeting Mark Bobby said: "We do not condone that sort of behaviour. It is not something we would ever agree with."
He said parking for residents was at a premium during the lockdown because many people were not going in to work, so more cars were competing for spaces.
Earlier he told the meeting the council had been monitoring the lockdown situation and consulting with local businesses about their strategies for dealing with it.
"We have been pretty dynamic," he said. "We have tried to protect the village itself from people coming in. Now we are trying to advise people to park in the car park at the beach and to stay away from the streets."
Nigel Coe said: "There are some people coming into the village that should not at the moment. But it is a police matter.
"We have some second home-owners who are turning up and lots of visitors to the beach. Social distancing then becomes an issue. Some of our vulnerable residents are then in fear again."
Marie Hartley added the council was in regular contact with the police, but was limited as to what it could do.
VIRTUAL COUNCIL: Members of the parish council met in public using video conferencing app Zoom for the first time.
The session on Wednesday brought councillors and members of the public together online to deal with an agenda that included an update on the emergency response team's efforts to help vulnerable people in lockdown, parking problems and issues posed by visitors.
CHURCH ONLINE: For the very first time parish priest Fr John Bloomfield video
recorded Mass from the Rectory garden in Winterton. Parishioners were invited to
watch "Ascension Day Mass From Winterton" on YouTube. It would have normally been
celebrated in the church, but due to the Covid-19 pandemic all services have been
suspended. There is another one planned for Pentecost, this Sunday (31st May).
FOOD FOR SALVATION: A big thank you to everyone who donated to the Salvation
Army food bank. The food was taken to Great Yarmouth Citadel, but a basket will
remain in Winterton Church Room for the collection of more food items. The Church
Room is open Monday to Friday from noon until 1.00pm. Items can also be left on
the table at Ash Lodge, Back Path.
News from the Winterton-on-Sea Parish Council & the village, May 2020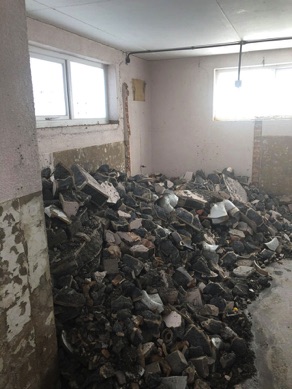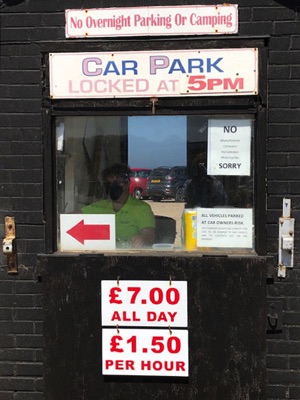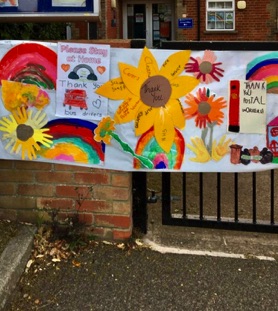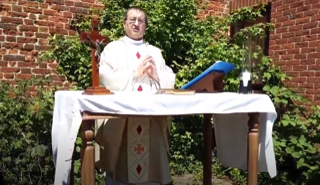 © All content copyright 2021