News from the village, July 2021
© All content copyright 2021
COVID TESTING SUCCESS: A total of 340 Covid tests were carried out when a mobile unit was stationed in the village for a week – more than 180 of them on the first day.
Volunteers, including newsletter distributors and In Bloomers, were drafted in and pushed leaflets through the doors of 750 homes alerting residents to the facility just before it arrived. It was also highlighted on the village Facebook groups.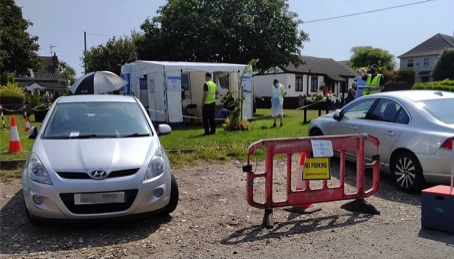 Community champion Dawn Clegg told fellow parish councillors at the July 28 meeting she was alerted by the borough council and asked to coordinate the leaflet drop. And when the bus arrived the beach car park was opened for staff while the village hall was used for comfort breaks and Marilyn Hunt's volunteers provided refreshments.
"We had some really early starts and some long days but it was really great to see the community spirit," she said. "We couldn't have done it without everybody's help. Everybody pulled together."
Chairman Mark Bobby thanked her for what she had done and praised the response from the community. "It speaks volumes about us as a village, how we have pulled together in this."
Deputy chairman Nigel Coe said a large number of lateral flow testing kits had been given away and if anyone needed them there were some left.
The council is sending out an official letter of thanks to those involved in the effort.
BROADBAND INQUIRY: The parish council is to look into the cost of installing broadband in the village hall.
Marina Carr was given backing by colleagues to start seeking quotes for the cost of the work and to investigate the benefits.
"We are not looking to do anything or find any money yet," she told the July 28 meeting. "Putting broadband into the village hall is quite a significant project."
Chairman Mark Bobby said he had no objections to the investigation but said: "I don't believe there is a phone line in the hall so we are starting from scratch."
LEAK GOES ON: Repairs have not been made to a water leak off King Street. Recent heavy rainfall has made the problem worse, causing flooding to The Loke.
Nigel Coe told the parish council it had been reported and Essex and Suffolk Water had visited.
Borough councillor James Bensly reported the issue was due to be discussed and officers would be deployed as soon as possible.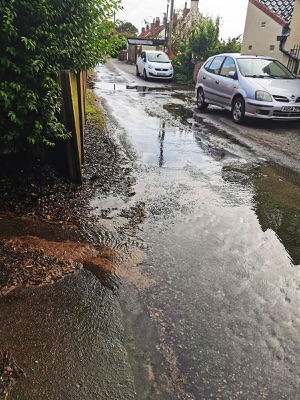 John Smithson said: "Given the current state of the village hall I think broadband needs to be part of a package of modernisation."
He didn't think the plastic furniture was attractive and there was an area of dead space near the kitchen that could be put to better use.
YOUNG chef Alex Clare is just two days into a brand new culinary adventure after starting his own business in Winterton.
The 24-year-old from Martham, who won the best chef title in the Norfolk Food and Drink Awards, has left the Swan at Ingham where he was head chef to set up Norfolk's Edge – literally on the edge of Norfolk.
He is running the Airstreams in the beach car park with the help of girlfriend Georgia and a couple of friends and his new menu is already proving popular.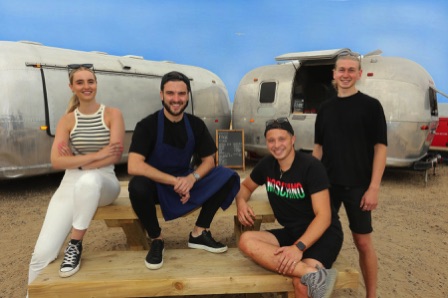 And as well as providing snacks for hungry visitors, dog walkers and locals, he's got big plans to bring fine dining and barbecues to folk in the village.
"I'm really excited," he said. "You couldn't get a better spot. We're bringing the North Norfolk vibe to Winterton."
Alex joined the Swan at the tender age of 16 working for owner Daniel Smith. "I wanted a job. I wanted to find a career that I could do really well in," he said. "I loved working for Daniel. I was his first apprentice.
"I was very sorry to leave but I've got an itch that I need to scratch."
Working in the kitchen is not for the faint-hearted. It's often stressful, the hours are long and involve split shifts. While his friends were out socialising or heading off to university he was learning his craft. "I suppose I missed all those sort of things but I wanted to progress. I was trying to make being a chef cool again in my world."
One of the first dishes he learned to prepare was an assiette of seafood. And fish is going to be a staple of his menu in Winterton, at the takeaway and for the fine dining side of his venture. Already his smoked mackerel wrap with tomato salsa, crème fraîche and parsley has gone down well with customers at the beach. "I'm trying to make it a lot more seafood-led because we're right by the sea," he explained.
Further down the line Alex, who originally hails from Upton, wants to take his cuisine into people's homes. He also wants to stage evening events and barbecues. Once he gets established the plan is to replace the Airstreams with converted shipping containers to provide a more permanent – but moveable – base. See @EdgeWinterton on Instagram for more.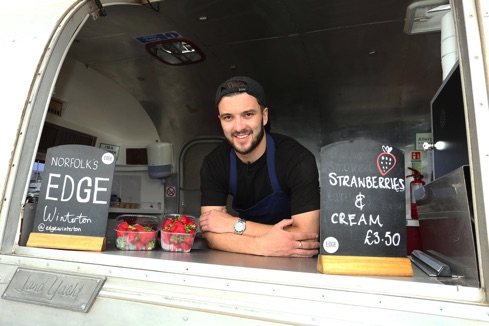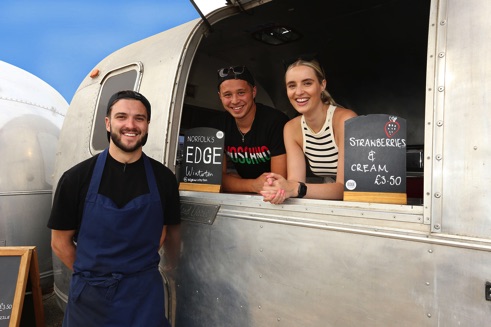 Georgia Butler, Alex Clare, Charles Tennant and Joey Woolsey
Chef Alex Clare, Charles Tennant and Georgia Butler
Chef's new life on the Edge